Tri-namics Learning System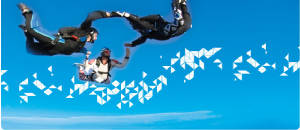 The Tri-namics System is not a workshop, course or program. It is a new, innovative organizational learning framework for professional development that uses a coach approach to develop leadership skills and enhance learning.
It can be used in multitudes of ways to extend learning from workshops, to foster a coaching culture or to transfer knowledge. It mines the existing intellectual
capital of the organization fostering new relationships.

A decidedly simple concept, a Coaching Triangle is formed through one person selecting a learning partner and the two together choosing a third to create a Coaching Triangle. The three attend an Orientation and using the Tri-namics Coaching Triangle book they create their own charter, commit to guiding principles, set goals, and sign a
contract. They then embark on their self-directed learning journey using the over 100 exercises and assessments in the Tri-namics resource manual to spark dialogue, to challenge their thinking and learn to coach each other.

Once the triangles are established and functioning one of the way to bring them together is to participate in a common workshop which builds skills together.

The depth and value of the Coaching Triangle is felt through the dialogue and complexity of relationships and the potential interaction with other Coaching Triangle members as the system grows. It can be layered into any existing organizational structure. The overall value of the system can be realized in measurable results such a lower number of grievances, increased engagement, higher
retention, local problem solving, or more effective knowledge transfer.

The Coaching Triangle System appears as a simple system, yet acts as an adaptive complex system. It is built on adult education principles, draws on a multitude of disciplines including organizational behaviour, psychology, new science theory, coaching and future trends. It is innovative and likely something you will say "Why did I not think of that?"

Coaching Triangles can be used in any group, company, association, business, organization, conference, or institution where people gather and want to learn together. The value in this system will be felt broad and deeply in an organization, enriching the culture and engaging talent.The unique features of the Coaching Triangle System are built into the Orientation process and the resource manual, Tri-namics Power of One, Two, Three: Provocative Questions for Leadership Wisdom.

The rich power of the system is felt when Coaching Triangles begin to become the norm, when a critical mass or tipping point is felt, when Coaching Triangles begin to meet together, and when problems are solved locally. Imagine the power of many Coaching Triangles in an organization- culture change and continual, real-time learning is possible.